---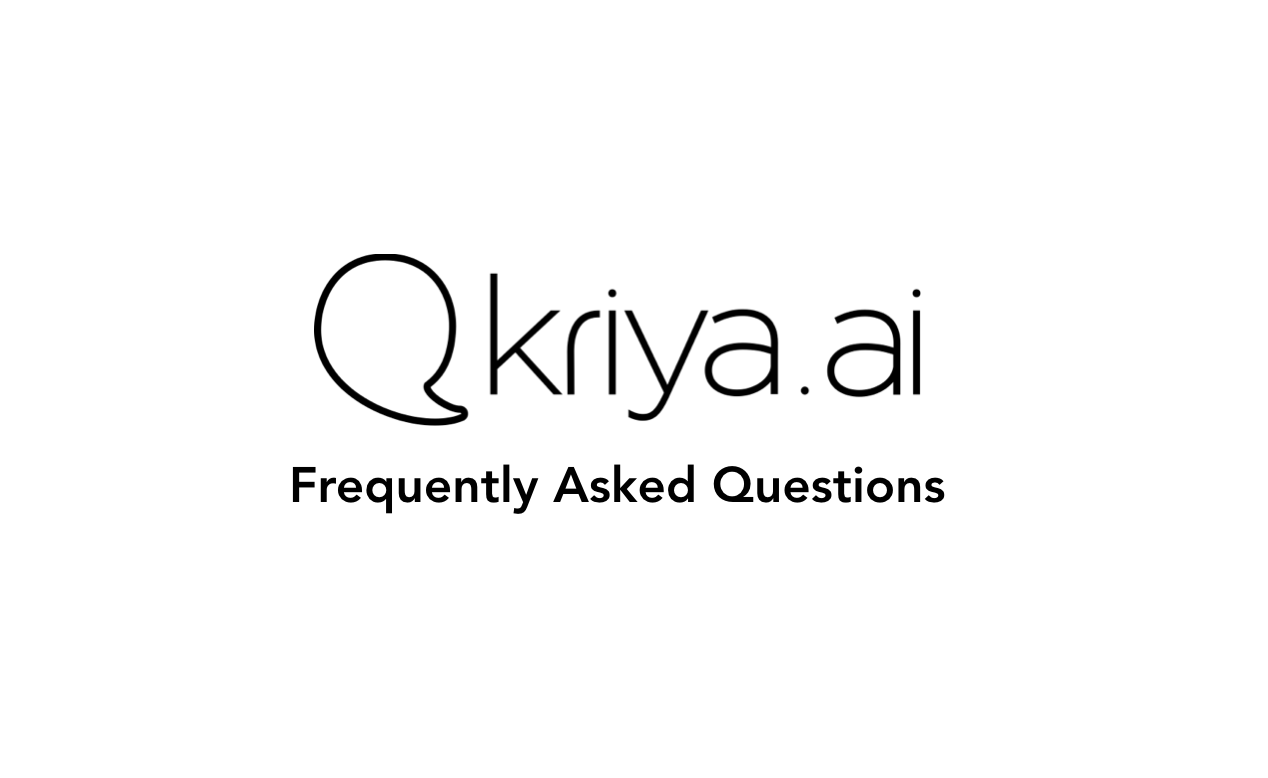 Kriya AI - FAQs
What is WAAS?
WAAS is workforce as a service. It enables companies to keep teams remote and work on-demand. It was first coined in 2012 by Upwork's then CEO, Gary Swart, where by 2020 everyone will prefer to work remotely. At Kriya, our vision is to make WAAS more available and effective with the help of Artificial Intelligence.
What is an AI Assistant?
An AI assistant is an intelligent computer program that can understand and automate human instructions with a friendly presence. The AI assistants lives on different messaging platforms to help connect users on multiple platforms. Kriya AI has two AI assistants, Leo & Trunks, implementing WAAS for companies. Leo & Trunks are available on Kriya's interactive messaging platform. They will soon be fully integrated with Slack.
Who are knowledge workers?
Knowledge workers primary capital is knowledge. Examples include software engineers, physicians, pharmacists, architects, engineers, scientists, design thinkers, public accountants, lawyers, and academics, and any other white-collar worker, whose line of work requires the one to "think for a living".
Who started Kriya?
Kriya is started by Ravi Vadrevu and Greg Wisenberg with the help of pre-vetted knowledge workforce. As a core team of two, an army of remote workers, and some funding, they built a company - now ramen profitable - using the WAAS model of keeping all employees remote. Former Upwork's team lead, Denis Shirokov built Kriya's first version of AI. He recently joined the team after finishing several milestones. We will soon be launching the future of organization structure.
What's the technology?
The core technology, Kriya AI, was built using machine learning, NLP, and neural nets. We built our AI that can recruit people based off of millions of profile data. It self-learns client and talent behavior to increase matching and vetting efficiency.

When our community matures, we plan to save our records on Blockchain to decentralize our entire ecosystem.
Which knowledge workers are on Kriya's WAAS?
Kriya's WAAS has vetted knowledge workers. Kriya's AI automates job posting, distribution, vetting, real-time quote, etc. Our current focus is on software engineers, data scientists, hardware engineers, product managers, product designers, product engineers, full-stack engineers, front-end engineers, marketing, and growth marketing skills.

What does Trunks do?
Trunks is our first AI assistant that helps companies hire vetted knowledge workers who work on-demand. "Trunks" is available on Kriya platform and will be launching soon on Slack.
What does Leo do?
Leo, our newest assistant takes anyone through a five-month journey of building a company from idea to the first customer. "Leo" is available on Kriya platform and will be launching soon on Slack.
How do I get started?
Here! After hiring team members, you will be matched with a top notch talent partner. They will be added to your room and you two can begin discussing the project and negotiating the budget. Once a set budget is agreed upon, you may begin and fund the first milestone. The milestone amount will be deposited in our escrow system until the milestone is submitted and you approve the work. The project will repeat in this fashion until complete.
Why should I choose Kriya?
First and foremost, Kriya is a product of our own frustrations outsourcing work. We have 1000+ active pre-vetted knowledge workers from across the world. Our AI increases hiring efficiency by 1000% and cuts overall cost by a 10th relative to full-time employees. If there is anyone who knows the value of leveraging the remote global workforce, it's us. We understand how valuable time and money are, especially in the early stages of starting a company so we made something to make people feel more at ease when hiring a remote team.
What about pricing?
Trunks Pricing - https://kriya.ai/trunks/pricing
Leo Pricing - https://kriya.ai/leo/pricing
How can I sign up as talent?
Here! After signing up, your profile will be reviewed by our systems. Once your profile is live, you will receive a notification that you can start accepting projects.
How do I get paid?
Clients will initially fund the milestone before any work has started. The deposit will be held in escrow until the milestone has been completed. After submission of every milestone, our AI assistant releases payment.